Why my next overseas holiday has to be Club Med in the snow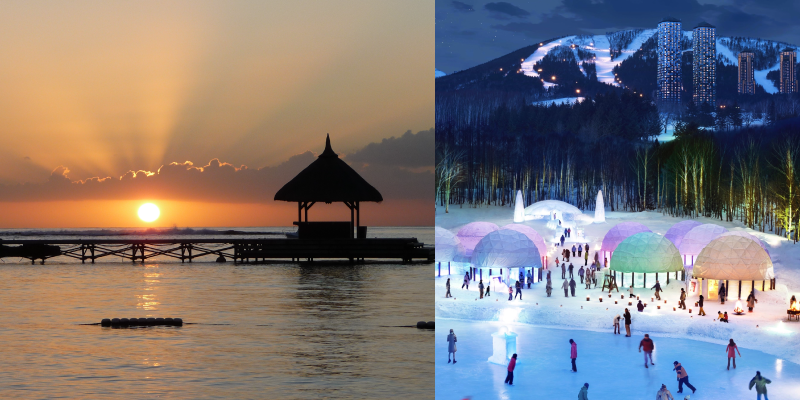 By Pete Taylor
Snow Forecastor & Owner
snowatch.com.au
The simple reason why is because of the truly amazing experiences I have recently had at Club Med Sun resorts.
I've been lucky enough to have spent time with my family at three Club Med Sun/Summer resorts over the last three years. Having been a snow forecastor for Snowatch.com.au in Australia for around 20 years most of my holidays during that time have been to snow destinations. It was at a Christmas family get together that I heard my sister and her family raving about their positive experience that they had at the Club Med Cherating Beach Resort in Malaysia about 4 years ago. This is when my wife Adele and I started to think about taking our two young boys (Zane, then 10 and Kalan, nearly 7) on our first trip overseas as a family. Malaysia had never even been on our radar for a holiday, but after a bit of research and the positive vibes from my sisters family we decided to jump in and book 7 nights in the April school holidays.
We flew from Sydney to Kuala Lumpur and then a short flight south, where we were picked up by the Club Med bus and after a 45 minute drive we were at Cherating Beach. We were so excited to be on our first big trip as a family. After being let through the security checkpoint into the secure Club Med resort area we noticed that there were resort staff lining the driveway, smiling and waving  at us on the bus as greeting music played in the background. We soon found out that this is the greeting all guests receive, not a bad start. We were then greeted by the Resort Chief and our GO (Gracious Organiser), were served a local iced tea and given cool wash towels to freshen up and cool down as we got the run down of what happens during our stay.
We had traveled all day so it was time for a late dinner and off to the restaurant. We could not believe our eyes, there was food everywhere from all over the world. At Club Med they cater for a wide range of nationalities so you can choose from Western, Chinese, Japanese, French, Indian, Moroccan etc and it changes daily…and best part is that it's all inclusive so we had already paid for everything. You can have all the food and drinks you desire at any time of the day (including desserts, cocktails, soft drinks and milkshakes which pleased Adele and the boys). The chefs cook for you on the spot, and the standard of food wouldn't be out of place in our top restaurants.
Being such a long day and a bit jet lagged we set in for an early night. After a good night sleep and the timezone paying havoc with our body clocks we woke early to see the most spectacular sunrise over the beach, which was just outside out rooms. We quickly grabbed the cameras and headed out for some photos.

After breakfast which was once again a wall to wall smorgasbord, we took the kids over to the kids club area, signed them in and said goodbye for the day. The boys were a bit apprehensive/nervous to meet new kids but thought they would give it a go as they had been told of all the activities they would be doing. Myself and Adele decided we would head for the Zen pool that we had heard so much about. It's about a 10 minute walk through the rainforest or a short trip on the resort train. The Zen pool area (quiet zone) is surrounded by two of Club Med's three beaches and is for over 18s, and is a quiet zone for relaxing. There is also an ala carte restaurant, just outside if you like to hang around for lunch. We had a supply of magazines we picked up at our local newsagent before leaving home (mine surfing and Adele's more girly type ones). It's was just magic, the outlook, the service (yes they have a bar there and bring you drinks (non alcoholic) all day).
We headed back to the resort for lunch after a few hours of reading, relaxing, paddling in the pool and just admiring the scenery. Once again the food was spectacular. After filling up we took a walk around the resort, then resided by the poolside main bar area for a couple of drinks, mine non alcoholic as I was informed at kids club sign in earlier that the 'Family Olympics' were on the lawn at 3pm. The kids showed up right on 3pm and the parents were encouraged to join in the fun and games. My youngest Kalan was on one of the other teams and he loved that he got to compete against his dad in various activities. Once the games had finished we signed the kids out and were told that the kids will be in a show after dinner at 7:30pm in the auditorium.

We went back to our room to freshen up and the kids were beaming. They told us of all the amazing things they had done on their first day. Archery, sailing, kayaking, watersports and trapeze. Kalan told us how he swung through the air from a great height on the trapeze. We thought he must have just played on a swing of some sorts not far off the ground. Little did we know that it was indeed very high (and very safe) and he did in fact swing, and fly through the air.
Zane told us of his fantastic day and that he had met another Zane from Australia who was the same age, they would become great inseperable buddies during our time at Cherating.
After dinner we headed to the auditorium to see the boys (who are not born performers) do their show. Kalan came out with the smaller kids who all performed including jumping from a mini tramp into the arms of one of the staff trapeze coaches and then swung through the air landing on the soft mats. Myself and Adele looked and each other in disbelief thinking he must have been telling the truth about the trapeze. Once the kids performances have ended the main show starts. Every night the staff perform on stage a mix a musical mix of singing, dancing and acrobatics. It's highly entertaining and it was standing room only each night. Once the show has finished the party begins, whether it be a dance party on the beach or a fireworks display. Of course if you want a quiet night you can easily retire back to your room.

The next six days were more of the same, relaxing, swimming, long walks, eating and drinking in the most picturesque settings, sailing, archery, kayaking, tennis, darts  and table tennis. Adele also joined yoga on the beach and had timed for a massage at the day spa (which was the only thing not included). The kids loved seeing the monkeys come down from the trees and rooftops every afternoon.
Zane found out there was a daily soccer match that anyone could enter and adults and kids from all corners of the globe would join together at 5pm for an hour of semi competitive fun. So it was out of kids club by 4pm, swim in the pool for an hour then off to soccer. Club Med has their own soccer/football field just a short walk from the main resort area. I even joined in for a game later in the week, and I'm not much of a soccer person so volunteered as goal keeper.

We also me the other Zane's parents Dean and Melissa who were having as much fun as we were. We were enjoying ourselves so much that we didn't leave the resort area once, it had all we needed and more.
Once we got back to Australia all we could do was think about doing it all again at another Club Med resort, so we started planning out next trip. Our reason for choosing another Club Med resort wasn't so much for the exotic picturesque scenery and warm weather (although that helped), it was because of the positive experience we had whilst there with the Club Med staff. The GO's (Gracious Organiser's) were the most friendly, respectful people I've ever met and they come from all corners of the globe. The staff always go the extra mile. Everyone from the cleaners, gardeners, drivers to the Chief of the Village (General Manager) all treat you as though you have been friends for years. You are made welcome even before you set foot off the bus on arrival, no matter what country you are from. For service staff that work so hard and long hours it's hard to believe how they can smile and be so helpful and happy towards the guests all day and night long. This must be a reflection on how they live and work as a team.

We decided to reduce our travel time for the next trip and try Bali. Many think of Bali as a place for drunken Aussie bogans but the resort area of Nusa Dua is a gated area of luxurious resorts, of which Club Med is one.The formula was pretty much the same, the staff were once again so welcoming. There was also a bit of a bonus for myself as Club Med Bali has it's own 7 hole par 3 golf course and a surf break out the front of the resort. This time Adele was brave and gave the trapeze a go (quite a few times). I'm terrible with heights so took the photos from below, it's pretty high up. The Bali experience was just as good as Cherating, the staff were fantastic once again, the Chief (GM) even brought around fresh fruit platters to those around the pool each day, interacting with each and everyone.

There are many outside activities and tours you can take in Bali that the staff can organise for you or you can just stay and use the many facilities that they have. The Zen pool area was brand new, much larger than at Cherating Beach, and the best part was it was about a minute walk from our room across the manicured lawn that was so soft under foot it felt like velvet.

We were now well and truly hooked on the Club Med holiday lifestyle and we started to look a little further afar for our trip the following year (May 2017). Since our first trip two families who live in our street have also had holidays  at Club Med Bali after hearing our positive feedback and they weren't disappointed.

Club Med La Plantation D'Albion in Mauritius was our next choice. We did look into the Maldives but it didn't seem to have as many things to do for the kids. Mauritius most famous for the now extinct Do Do bird and the steep volcanic mountain backdrops that rise up along the coastline, framed by luminous turquoise ocean waters across shallow reefs that surround the island.
This time Adele's parents came along, they too were keen to sample what we had spoken so highly about. We had an amazing week made even more comfortable once again by the staff and our gracious host Renate from South Africa who was head of Guest relations for the English speaking guests.
The weather was once again beautiful, a bit cooler than both Bali and Malaysia but still in the high 20s.  The beach and water was so clean. We pretty much tried everything, stand up paddle boarding, kayaking, sailing and  snorkeling on the reef off the resort which was a highlight. The boys kept me active playing tennis (they have many courts), and golfing on the large putting green, chipping green and driving range. Myself and father in law Phil even won one of the daily archery tournaments taking down the Americans, South Africans and Chinese. It was all in good fun.

Of the nightly shows I think the standout was the Michael Jackson show, I think the star was even better at dancing like Michael than the late king of pop himself. We also really enjoyed the 'White Night' (each night has a theme that guests are encouraged but not expected to join in). The main pool area was decked out like a five star restaurant for all guests and we ate and drank like royalty as acrobats performed over the pool.

With such positive experiences at the three Club Med summer resorts we visited we are now looking at trying one the 32 Club Med snow destinations. We are leaning towards the brand new Club Med Tomamu in Hokkaido, Japan which opens in December. From what we have been told the formula is the same, the emphasis is on fun and getting the guests involved. All resorts are fully inclusive so all meals, drinks and activities area all included, there is no need to get the wallet or purse out unless you want extras like tours or day spa use.
Of course the main reason for going would be for the excellent dry powder snow that the Hokkaido area is well known for, but also the added extras that Tomamu offers like the ice bar and village and the indoor wave pool. Flying to Tokyo and then taking the bullet train up north would also add to the experience (although you can also fly up as well).

Once we tick off a Club Med snow resort, who knows if we will then continue onto more snow resorts or perhaps head back to the warmth. I'm thinking the new one in Lombok, Indonesia opening in 2019 would be nice, but for now the snow is calling and I can't wait. And of course I will be sure to tell you all about it.
Pete.
(The above editorial is entirely my own thoughts. I have not benefited in any way from Club Med.)