Updated: September 25th, 6:42am
NEW SOUTH WALES
Snow forecast
5 Days
10 Days
15 Days
Perisher
0cm
1-5cm
1-6cm
Thredbo
0cm
1-5cm
1-6cm
Charlotte Pass
0cm
1-5cm
1-6cm
Selwyn
0cm
0cm
0cm
VICTORIA
Snow forecast
5 Days
10 Days
15 Days
Falls Creek
0cm
1-5cm
1-6cm
Mt Hotham
0cm
1-5cm
1-6cm
Mt Buller
0cm
1-5cm
1-6cm
Mt Baw Baw
0cm
1-5cm
1-6cm
Please note: the 10-15 day readings are more likely to change due to the longer range timeframe
Today is officially the last day of lift operations for Season 2023 with the last remaining resort open Perisher, closing later today. It's been a season that never really delivered and one that will probably go down as one of the worst on record.
We had a very mild period leading into the season which meant we didn't see a lot of snowmaking, which is so important early on. The snow didn't really get going until late June and by early July things were looking great with a decent cover. But that's where it ended with the season's peak depth being in the second week of July. After that temps struggled to get below zero. We had limited snow making nights and when a cold front did arrive it was more often than not only cold enough for snow up top and showers on the mid to lower slopes. August which is normally peak season, was a bit of a fizzer, with plenty of cold fronts but not enough cold. September was unseasonably warm, reaching Summer like temperatures and the snow melt was rapid, and that's were we see ourselves now.
Groomers at all resorts have done a remarkable job to keep lifts running as long as they did, and the mountain operations and grooming teams deserve some accolades.
For the last day at Perisher we will see a mostly sunny start with light to moderate winds. Clouds will increase during the day with some light showers possible later. The snow will be soft and slow, due to a very mild night.
Roads are clear, but could be a little wet later this afternoon.
Light scattered showers on Tuesday and clearing Wednesday.
Long range we could see a little snow around the 4th/5th of October after some heavy rain.
Today will be the final Snowatch® forecast for Season 2023 but we will be keeping an eye on the overseas resorts on our snowcam network covering Canada, the US, Japan and Europe so keep checking snowatch.com.au and our socials.
Pete 'The Frog' Taylor
....
If publishing any of the above forecast outlook please quote Snowatch.com.au as the source.
---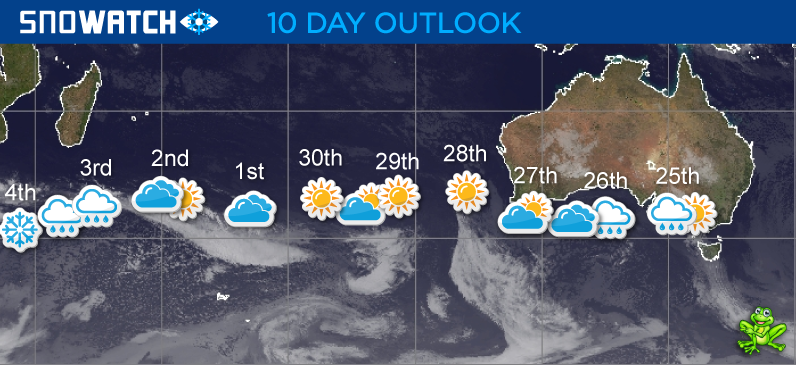 ---

---

DECEMBER
SUN
MON
TUE
WED
THU
FRI
SAT
1
2
3
4
5
6
7
8
9
10
11
12
13
14
15
16
17
18
19
20
21
22
23
24
25
26
27
28
29
30
31
JANUARY
SUN
MON
TUE
WED
THU
FRI
SAT
1
2
3
4
5
6
7
8
9
10
11
12
13
14
15
16
17
18
19
20
21
22
23
24
25
26
27
28
29
30
31
| | | | | | | |
| --- | --- | --- | --- | --- | --- | --- |
| | No Snow | | | Light Snow | | Heavy Snow |